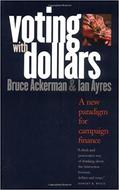 ---
In this provocative book, two leading law professors challenge the existing campaign reform agenda and present a new initiative that avoids the mistakes of the past.
Bruce Ackerman and Ian Ayres build on the example of the secret ballot and propose a system of "secret donation booths" for campaign contributions. They unveil a plan in which the government provides each voter with a special credit card account containing fifty "Patriot dollars" for presidential elections. To use this money, citizens go to their local ATM machine and anonymously send their Patriot dollars to their favorite candidates or political organizations. Americans are free to make additional contributions, but they must also give these gifts anonymously. Because candidates cannot identify who provided the funds, it will be much harder for big contributors to buy political influence. And the need for politicians to compete for the Patriot dollars will give much more power to the people.
Ackerman and Ayres work out the operating details of their plan, anticipate problems, design safeguards, suggest overseers, and show how their proposals satisfy the most stringent constitutional requirements. They conclude with a model statute that could serve as the basis of a serious congressional effort to restore Americans' faith in democratic politics.
This publication is available on the following site(s):