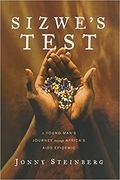 At the age of twenty-nine, Sizwe Magadla is among the most handsome, well-educated, and richest of the men in his poverty-stricken village. Dr. Hermann Reuter, a son of old South West African stock, wants to show the world that if you provide decent treatment, people will come and get it, no matter their circumstances.
Sizwe and Hermann live at the epicenter of the greatest plague of our times, the African AIDS epidemic. In South Africa alone, nearly 6 million people in a population of 46 million are HIV-positive. Already, Sizwe has watched several neighbors grow ill and die, yet he himself has pushed AIDS to the margins of his life and associates it obliquely with other people's envy, with comeuppance, and with misfortune.
When Hermann Reuter establishes an antiretroviral treatment program in Sizwe's district and Sizwe discovers that close family members have the virus, the antagonism between these two figures from very different worlds – one afraid that people will turn their backs on medical care, the other fearful of the advent of a world in which respect for traditional ways has been lost and privacy has been obliterated – mirrors a continent-wide battle against an epidemic that has corrupted souls as much as bodies.
A heartbreaking tale of shame and pride, sex and death, and a continent's battle with its demons, Steinberg's searing account is a tour-de-force of literary journalism.
This publication is available on the following link(s):