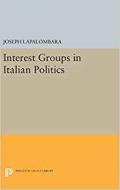 The author examines both structurally and functionally the General Confederation of Italian Industry, Italian Catholic Action, the Christian Democrats, the Italian Liberal Party, the monarchist Italian Republican Party, the neo-Fascist Italian Social Movement, and many more interest groups. The book is based on several years of field research in Italy, including interviews with scores of political figures, bureaucrats, and interest group leaders.
Originally published in 1964.
The Princeton Legacy Library uses the latest print-on-demand technology to again make available previously out-of-print books from the distinguished backlist of Princeton University Press. These editions preserve the original texts of these important books while presenting them in durable paperback and hardcover editions. The goal of the Princeton Legacy Library is to vastly increase access to the rich scholarly heritage found in the thousands of books published by Princeton University Press since its founding in 1905.
This publication can be found on the following site(s):