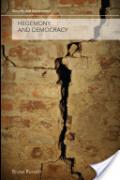 Hegemony and Democracy is constructed around the question of whether hegemony is sustainable, especially when the hegemon is a democratic state. The book draws on earlier publications over Bruce Russett's long career and features new chapters that show the continuing relevance of his scholarship. In examining hegemony during and after the Cold War, it addresses:
The importance of domestic politics in the formulation of foreign policy;
The benefits and costs of seeking security through military power at the expense of expanding networks of shared national and transnational institutions;
The incentives of other states to bandwagon with a strong but unthreatening hegemon and 'free-ride' on benefits it may provide rather than to balance against a powerful hegemon.
The degree to which hegemony and democracy undermine or support each other.
By applying theories of collective action and foreign policy, Russett explores the development of American hegemony and the prospects for a democratic hegemon to retain its influence during the coming decades. This collection is an essential volume for students and scholars of International Relations, American Politics, and US Foreign Policy.
This publication is available on the following link(s):