Vatsal Naresh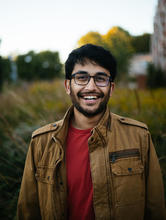 ---
Contact:
Bio:
Vatsal is a PhD student in Political Science. His research focuses on democratic theory, political violence, constitutionalism, and South Asian politics. Before coming to Yale, he was a Graduate Researcher at the Center for Democracy, Toleration, and Religion in New York. Vatsal has been a contributor and curator for public outreach material at the Shared Sacred Sites project, and he assisted in the curators of the Shared Sacred Sites exhibition in Thessaloniki, Greece (2017) and New York City (2018).
Publications:
Constituent Assemblies

(co-edited with Jon Elster, Roberto Gargarella, and Bjorn Erik Rasch; Cambridge University Press 2018)

"Pride and Prejudice in Austin's cornerstone" in Udit Bhatia (ed.), The Indian Constituent Assembly (Routledge 2018). Please write to me at vatsal.naresh@yale.edu if you would like an updated version of this essay.
Interests: