Paul Linden-Retek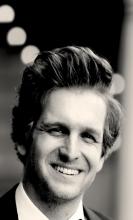 ---
Contact:
115 Prospect Street, Rosenkranz Hall, New Haven, CT 06520
paul.linden-retek@yale.edu
Education:
Bio:
Paul Linden-Retek received his Ph.D. in Political Science from Yale University in 2018 with departmental and university distinction and holds previous degrees from Harvard University (A.B. in Social Studies) and Yale Law School (J.D.). Paul's research and teaching interests are in contemporary political and legal theory, in particular the political philosophy of European integration, global constitutionalism, international refugee and asylum law, and law and the humanities.
Beginning in fall 2018, he will be a Post-doctoral Emile Noël Global Fellow at the Jean Monnet Center for International and Regional Economic Law & Justice, New York University School of Law.
Responding to the faltering democratic integrity of the European Union, Paul's dissertation develops a theory of post-national constitutional law, sovereignty, and solidarity that draws on conceptions of identity and time from across Anglo-American legal theory, Continental political and ethical thought, and European jurisprudence. Reducible to neither free economic exchange nor the protection of basic rights nor an enlarged sovereignty, Paul's hope for reviving post-national political community in the EU asserts instead the central role of narrative interpretation—an innovative view of political and legal judgment that expresses commitment to a past, while holding the self open to reconsideration into the future. The work was awarded Yale's James G. March Prize for an outstanding dissertation in any field in political science.
Paul's academic work has been published in Global Constitutionalism, the Croatian Yearbook of European Law and Policy, and the Yale Journal of International Law; and his public writing has appeared in the Boston Review, openDemocracy, and Social Europe.
Dissertation:
The time of law: Europe's crisis and the future of post-national constitutionalism
Committee: Professors Seyla Benhabib (chair), Bruce Ackerman, Helene Landemore, and Paul Kahn (Yale Law School) 
Publications:
'Cosmopolitan law and time: Toward a theory of constitutionalism and solidarity in transition' (2015) 4(2)

Global Constitutionalism

157.

'The spirit and task of democratic cosmopolitanism: European political identity at the limits of transnational law' (2012) 8 (8)

Croatian Yearbook of European Law and Policy

175.

'Supervised independence and post-conflict sovereignty: The dynamics of hybridity in Kosovo's new constitutional court'

Yale Journal of International Law

, Fall 2010 (co-author with Steven Hill).

'How refugees can save Europe'

Boston Review

, 27 January 2016, 

bostonreview.net/world/paul-linden-retek-refugees-european-project