Nilakshi Parndigamage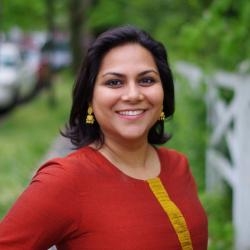 Contact:
302 York Street, Ezra Stiles College, Room 112
nilakshi.parndigamage@yale.edu
Bio:
Nilakshi Parndigamage is a lecturer in the Political Science and the Dean of Ezra Stiles College. Born and raised in Colombo, Sri Lanka, she earned her Bachelor of Arts degree in Political Science from Yale University and her Juris Doctor degree from the University of Virginia School of Law.
Dean Parndigamage previously worked as a corporate litigator in New York and Washington, D.C. for a international commercial litigation firm. She was a member of several legal teams representing corporate clients in various breach-of-contract, fraud, products liability, qui tam, and securities cases. During her time at the firm, she also devoted significant time to pro bono criminal defense work. She has been admitted to practice law in New York and the District of Columbia.
Prior to her career as a litigator, Dean Parndigamage conducted human rights research, advocacy, and public policy work in Washington, D.C., Baghdad, Cape Town, and the Hague. She has researched the prevalence of wartime sexual violence in the former Yugoslavia and has assisted in editing a handbook for Iraqi legislators on how to re-draft Iraqi legal codes to better protect the rights of Iraqi minorities. She is the recipient of numerous human rights fellowships and is currently a Senior Fellow of the Humanity in Action Human Rights Organization based in New York City.
Dean Parndigamage teaches a course on Wrongful Convictions which examines the various social and political factors that result in innocent people being convicted of serious crimes in the United States. The course examines factors such as eye-witness misidentifications, unreliable forensic science, false confessions, informants, and prosecutorial and law enforcement misconduct that contribute to the problem of wrongful convictions, and explores possible criminal justice reform approaches that would address potential sources of error.