Mie Inouye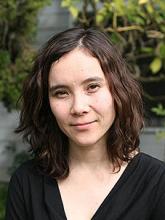 ---
Contact:
641 Whitney Ave, Apt 1E
(617) 872-2704
mie.inouye@yale.edu
Bio:
Mie is a joint PhD candidate in Political Theory and Religious Studies at Yale University. She holds a B.A. from Tufts University and an M.A. from the University of Toronto. Her interests include democratic theory, religion and politics, twentieth-century American political thought, history of political thought, social movements, and theories of political action.
Her dissertation, Antinomies of Organizing, reconstructs theories of democratic participation from the praxis of twentieth-century American organizers – JBS Hardman, Myles Horton, and Ella Baker – and their movements. It argues that the American organizing tradition is a crucial source for the idea of participation as a means of personal transformation, and traces the influence of this idea within participatory and deliberative democratic theory.