Karuna Mantena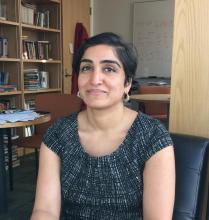 Associate Professor of Political Science
 Ph.D., Harvard University, 2004
 M.A, University of Essex, 1996
 BSc, London School of Economics, 1995
Bio:
Karuna Mantena is Associate Professor of Political Science. She holds a BSc(Econ) in International Relations from the London School of Economics (1995), an MA in Ideology and Discourse Analysis from the University of Essex (1996), and a PhD in Government from Harvard University (2004). 
Her research interests include modern political thought, modern social theory, the theory and history of empire, and South Asian politics and history.  Her first book, Alibis of Empire: Henry Maine and the Ends of Liberal Imperialism (2010), analyzed the transformation of nineteenth-century British imperial ideology.  Her current work focuses on political realism, the politics of nonviolence, and the political thought of M.K. Gandhi.
Since 2011, Karuna Mantena has been serving as co-director of the International Conference for the Study of Political Thought.
This fall she is offering an upper level seminar on Theories of Political Action.  In the spring she will be teaching an undergraduate lecture course on Gandhi, King, and the Politics of Nonviolence as well as teaching in the Directed Studies program.
Articles:
"Showdown for Nonviolence: The Theory and Practice of Nonviolence," in

To Shape a New World: The Political Philosophy of Martin Luther King, Jr.,

edited by Brandon Terry and Tommie Shelby, Harvard University Press (2018)

"The Power of Nonviolence,"

AEON 

(March 2016)

"Popular Sovereignty and Anticolonialism," Popular Sovereignty in Historical Perspective, edited by Richard Bourke and Quentin Skinner, Cambridge University Press (2016)
 "The Ideas of Indians: An assessment of Ananya Vajpaeyi's Righteous Republic," The Caravan (March 2013)
 "Another Realism: The Politics of Gandhian Nonviolence," American Political Science Review 106:2 (2012)
"On Gandhi's Critique of the State: Sources,  Contexts, Conjunctures," Modern Intellectual History 9: 3 (2012)
"Genealogies of Catastrophe: Arendt on the  Logic and Legacy of Imperialism," Politics in Dark Times: Encounters  with Hannah Arendt, eds. Seyla Benhabib, Roy T. Tsao, and Peter Verovsek, Cambridge University Press, 2010
Video:
2014-05-16 - Center for Research in the Arts, Social Sciences and Humanities:  The Fifth Balzan-Skinner Lecture.  "Gandhi's Realism: Means and Ends in Politics".