John Henderson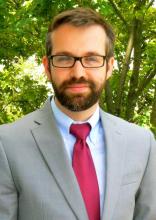 Assistant Professor of Political Science and in the Institution for Social and Policy Studies
Ph.D, University of California - Berkeley, 2013
M.A., University of California - Berkeley, 2007
Bio:
John A. Henderson is Assistant Professor in the Department of Political Science at Yale University.  His research focuses primarily on the consequences of polarization on representation and policymaking in the U.S., as well as the causes of participation and vote choice in congressional and presidential elections.
Additional research interests include sensitivity and matching analysis for instrumental variables and imperfectly randomized experiments, as well as dimensional scaling and analysis of text data.
Personal Website:
For Office Hours, click here.