Hilary Matfess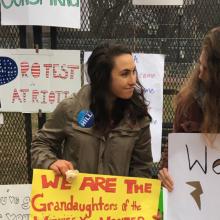 ---
Contact:
115 Prospect Street, Rosenkranz Hall
hilary.matfess@yale.edu
Education:
M.A., African Studies and International Economics, Johns Hopkins University School of Advanced International Studies, May 2015
B.A. (with honors), International Studies, Johns Hopkins University, May 2014
Bio:
My work examines how insurgencies' internal organizational dynamics interact with external forces to shape conflict, with a focus on the use of atrocities like mass abductions and systemic sexual violence in sub-Saharan Africa. Previously, I've conducted research on Boko Haram's gender dynamics, developmental authoritarianism in Ethiopia and Rwanda, and economic reform in Tanzania. I've also worked on issues of transnational threats to global security at the National Defense University, contributed to reports linking the security of women to the security of states with Futures without Violence, and worked as a freelance journalist.
Publications:
Women and the War on Boko Haram, forthcoming Fall 2017 with Zed Books. 
Articles:
"In Africa, All Jihad Is Local".  ForeignPolicy.com, Argument, May 16, 2019
"No Democracy Is An Island" with Jeffrey Smith.  ForeignPolicy.com, Argument, May 8, 2019
Matfess, H., (2016). Institutionalizing Instability: The Constitutional Roots of Insecurity in Nigeria's Fourth Republic. Stability: International Journal of Security and Development. 5(1), p.13. DOI: http://doi.org/10.5334/sta.458

"The March Is Not Linear: Big Party Politics and the Decline of Democracy Worldwide" with Francis Fukuyama in "Beyond Convergence: A World Without Order."

Center for Complex Operations

 (2016). Available here.

"Ethiopia: Counter-Terrorism Legislation in Sub-Saharan Africa." Small Wars Journal. April 11, 2017.

"Sub-Saharan Africa" in "Charting a New Course Strategic Choices for a New Administration." Institute for National Security Studies, (2016).

"Women as Symbols and Swords in

Boko

Haram's

Terror" with Mia Bloom. PRISM. 6.1(2016). Available here.

"Rwanda and Ethiopia: Developmental Authoritarianism and the New Politics of African Strong Men." African Studies Review 58.2 (2015): 181-204. 
Fields of Interest: