Hari Ramesh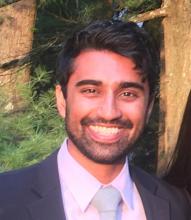 ---
Contact:
115 Prospect Street, Rosenkranz Hall
hari.ramesh@yale.edu
Education:
M. Phil, Political Science, Yale University (Fields: Political Theory, Statistics, and Comparative Politics)
M.A. Political Science, Yale University
B.A., Political Science and English, Williams College
Bio:
Hari Ramesh is a PhD candidate in Political Science at Yale University. His dissertation rethinks the authority and institutional forms of state action aimed at alleviating social inequalities and generating integration in modern democracies. It does this by drawing on a thread of twentieth century political thought which originates in John Dewey (1859-1952) and extends to Bhimrao Ramji Ambedkar (1891-1956) and the Thurgood Marshall-led legal team in Brown v. Board of Education (1954).
Hari's other ongoing research projects include a comparative study of the anti-imperial internationalisms of Rabrindranath Tagore and W.E.B. Du Bois, as well as an empirical study of the incidence and effectiveness of vote buying in Indian villages (with Gautam Nair).