Daniela Cammack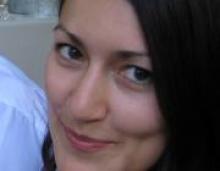 ---
Contact:
115 Prospect Street, Rosenkranz Hall, Room 309
1(203) 432 5262
daniela.cammack@yale.edu
Education:
Ph.D.: Harvard University, 2013
M.Phil.: University of Cambridge, 2005
B.A.: University of Oxford, 2002
Bio:
Daniela Cammack is an assistant professor of political science.
She specializes in ancient Greek politics and philosophy, though maintains an interest in all areas of the history of political thought. Her research has been published or is forthcoming in Political Theory, Polis, History of Political Thought, Classical Quarterly, Classical Philology and the Journal of Political Philosophy. She is currently working on her first book, Athenian Democracy: A Reinterpretation, and making plans for two others: Deliberation Ancient and Modern and Plato's Politics.
Areas of Interest:
Political Theory
Ancient Greek politics
Ancient Greek philosophy
History of political thought
History and theory of democracy