Daniel HoSang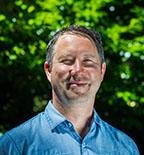 Associate Professor Ethnicity Race & Migration and of American Studies
---
Bio
Daniel Martinez HoSang received his BA in History from Wesleyan University and PhD in American Studies and Ethnicity from the University of Southern California. He is the author of Racial Propositions: Ballot Initiatives and the Making of Postwar California (University of California Press, 2010) which was awarded the 2011 James A Rawley Prize from the Organization of American Historians. He is co-editor, with Oneka LaBennett and Laura Pulido, of Racial Formation in the 21st Century (University of California Press, 2012). HoSang's research and teaching explore the contradictory labor of race within U.S. political culture across a wide-range of sites, including electoral politics, social movements, and cultural production.
He has a long record of collaboration with community-based organizations and labor unions as a trainer, board member, and advisor, with groups including the Restaurant Opportunities Center (ROC), the Alliance for a Just Society, Oakland Kids First!, the Partnership for Safety and Justice, and Forward Together.
Prior to joining the Yale faculty in 2017, HoSang was an Associate Professor (and Department Head) of Ethnic Studies and Political Science at the University of Oregon.
HoSang serves as faculty advisor of the History of the Carceral State Working Group. He has served on dissertation and exam committees for students in the fields of political science, sociology, English, comparative literature, anthropology, American Studies, and history.
His forthcoming books in 2019 include Producers, Parasites and Patriots: Race and the New Right-Wing Politics of Precarity (co-authored with Joseph Lowndes), University of Minnesota Press; Seeing Race Again: Countering Colorblindness Across the Disciplines (co-edited with Kimberle Crenshaw, Luke Harris and George Lipsitz), University of California Press; Relational Formations of Race: Theory, Method and Practice (co-edited with Ramon Gutiérrez and Natalia Molina); and A Wider Type of Freedom: Reimagining Racial Justice (University of California Press).
Contact