Brandon Terry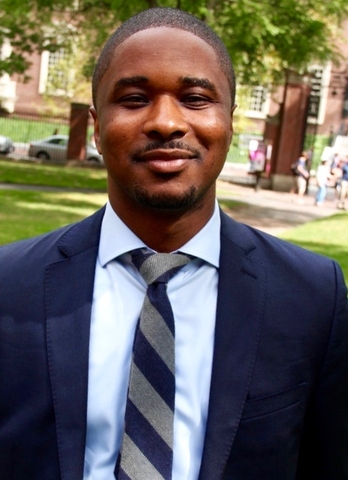 Visiting Assistant Professor
---
Contact:
Bio:
Brandon M. Terry is Presidential Visiting Assistant Professor at Yale University and Assistant Professor of African and African American Studies and of Social Studies at Harvard University. Terry earned a PhD with distinction in Political Science and African American Studies from Yale University, an MSc in Political Theory Research as a Michael von Clemm Fellow at Corpus Christi College at the University of Oxford, and an AB, magna cum laude, in Government and African and African American Studies from Harvard College.
A scholar of African American political thought, Brandon is the editor, with Tommie Shelby, of To Shape a New World: Essays on the Political Philosophy of Martin Luther King, Jr. (Harvard University Press, 2018) and the editor of Fifty Years Since MLK (Boston Review/MIT 2018). He has published work in Modern Intellectual History, Political Theory, The New York Review of Books, The Los Angeles Review of Books, Boston Review, Dissent, The Point, and New Labor Forum. For his work, Brandon has received fellowships, awards, and recognition from the Edmund J. Safra Center for Ethics, the Center for History and Economics, the Ford Foundation, the Mellon-Mays Foundation, the American Political Science Association, the National Conference of Black Political Scientists, and Best American Essays. His forthcoming book, tentatively titled, The Tragic Vision of the Civil Rights Movement: Political Theory and the Historical Imagination (under contract with Harvard University Press) interrogates the normative and political significance of different narratives of African American history in liberalism, radicalism, and Afro-pessimism through an original synthesis of methods drawn from philosophy of history, literary theory, and political philosophy.
During the 2021-2022 academic year, Terry will also be working on two follow-up monographs on the political and ethical thought of Malcolm X and Martin Luther King, Jr. respectively.
Articles:
"Conscription and the Color Line: Rawls, Race, and Vietnam," Modern Intellectual History (Published online, March 9, 2021)
"Malcolm's Ministry," The New York Review of Books (February 25, 2021)
"What Dignity Demands," The New York Review of Books (March 3, 2021)
"The Two Titans of Civil Rights (interview)," New York Review of Books Online (March 6, 2021)
"Stokely Carmichael and the Longing for Black Liberation: Black power and Beyond" in Melvin Rogers and Jack Turner, eds., African American Political Thought: A Collected History (Chicago, 2021)
"This Faith," Los Angeles Review of Books (July 2020)
"MLK Now," Boston Review (January 2018)
Tommie Shelby and Brandon M. Terry, eds., To Shape a New World: Essays on the Political Philosophy of Martin Luther King, Jr. (Harvard University Press, 2018)
"After Ferguson," The Point, no. 10 (Summer 2015), reprinted in The Opening of the American Mind (Chicago, 2021)