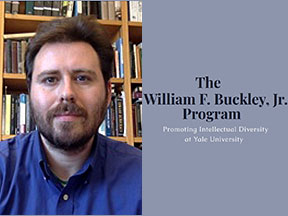 The William F. Buckley Jr. Program is thrilled to announce Dr. Mordechai Levy-Eichel as the inaugural winner of our Lux et Veritas Faculty Prize. This prize recognizes a Yale faculty member who actively fosters intellectual diversity for students in and out of the classroom. After receiving nominations representing 21 faculty members from across the college and graduate schools, a rigorous judging panel found Dr. Levy-Eichel's dedication to stimulating genuine critical thinking among his students and creating an environment of open dialogue in the classroom to be an above-and-beyond example of teaching excellence.
In recognition of his efforts, Professor Levy-Eichel will be awarded a prize of $10,000. We are excited to present this prize to him at a celebratory event this upcoming fall semester, complete with a lecture by Dr. Levy-Eichel himself followed by a reception.
Professor Levy-Eichel is a member of the Department of Political Science and the Humanities Program at Yale. As demonstrated by the many comments from students who nominated him, Dr. Levy-Eichel has won the admiration of his students for the open and thought-provoking intellectual environment he creates in his classes. "I remember thinking to myself that these are exactly the sorts of courses and challenges I was hoping to find when I came to Yale," remarked one student. "The discussions in his courses were vibrant and open yet challenging in a manner that promoted growth. I believe that Dr. Levy-Eichel improved his students' clarity of thought and communication skills through these discussions. He also inspired students to dig into additional material that covered questions raised in the class on their own time. And his questions spared no political ideology throughout the semester. His courses serve as models for the promise of seminars at Yale."
Another student commented, "[His classes] were some of my favorite classes I took at Yale, because of his ability to create an environment in seminar where we could truly engage in interesting debate and conversation, with people truly willing to listen and be open to changing their minds, and where students could feel comfortable with bringing in their personal backgrounds and discussing how their unique experiences informed their point of view."
It is clear that Dr. Levy-Eichel's efforts to promote engagement with different points of view and respectful discourse among students, create a classroom environment where students feel comfortable expressing their thoughts and ideas openly, and cultivate the skill of genuine critical thinking in students have made a lasting impact.
"The influence [Professor Levy-Eichel] had on the way I approach the world and the high intellectual standard he held me to is profound," expressed a recent graduate. "I can thank him for inculcating within me a desire to constantly examine and re-examine my priors, to truly engage in a ruthless critique of everything. Moreso, he not only inspired me to continue learning even after graduating from college, but also taught me how to critique the world while at the same time maintaining a deep sense of humility about how little I truly know. I can honestly say that he truly made my undergraduate education worth it."
The Buckley Program is proud to celebrate and promote such excellence. It is through allowing diverse points of view to be taken seriously, engaging in disagreements and discussions in good-faith, and inculcating a spirit of intellectual humility that the true mission of the university is realized. Professor Levy-Eichel exemplifies these ideals and puts them into practice in his classroom. The Buckley Program is delighted to award the inaugural Lux et Veritas Faculty Prize to Dr. Mordechai Levy-Eichel.