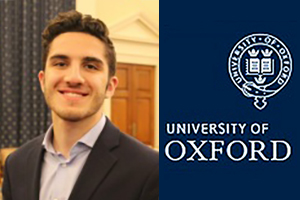 Graduate of the Yale Political Science Program Marwan Safar Jalanni has a new OpEd in the New York Times entitled "We Syrians Are Not Surprised by This Betrayal."
Abstract:
Less than 10 years ago, the United Arab Emirates' foreign minister, Abdullah bin Zayed, spoke up against the regime of President Bashar al-Assad of Syria for massacring civilians.
In November, he hugged him.
The embrace — on the first visit of an Emirati official to Damascus since the outbreak of the Syrian revolution — felt like a blessing of the al-Assad regime's atrocities and a stab in the back for those of us who suffered war and displacement.
Though many of us Syrians watched the hug with a sense of betrayal, we were not surprised: It's just the latest in a wave of international moves to rehabilitate relations with the al-Assad regime.
Marwan was the first Yale student from Syria to earn a Rhodes Scholarship.
While a Graduate Student, Marwan was awarded the 2020 Charles Washburn Clark Prize (Comparative Politics)  for the most outstanding scholarship in comparative politics throughout the course of the major.
He was also recruited and worked as a research assistant with Professor Elizabeth Nugent when her fieldwork on a post-election survey in Tunisia to better understand the effects of repression on political partisanship following a revolution was interrupted by the pandemic.
Marwan is currently a Graduate Researcher in the Department of Politics and International Relations, University of Oxford.