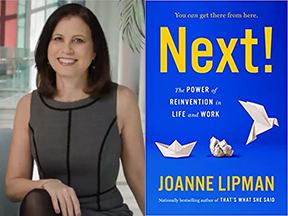 Joanne Lipman, Lecturer in Political Science, has a new publication coming out on March 21, 2023 entitled "Next!  The Power of Reinvention in Life and Work."
Abstract:
The profound disruptions of recent years have sparked a collective reckoning. We reprioritized our lives, and reordered how we envisioned the future. Businesses were forced to pivot, while leaders scrambled to rethink their roles. There has been an unprecedented global reset. But in truth, almost everyone goes through this kind of reappraisal at least once in their life—and probably more often than that. Whatever the catalyst, it prompts in us the urgent need to pivot, to ask the question:
What's next—and how do I get there?
In Next!, bestselling author and journalist Joanne Lipman distills hundreds of personal interviews along with the latest scientific research to answer just this question. Through irresistible storytelling, she takes us inside successful career reinventions (ad executive to bestselling novelist; stay-at-home mom to CEO) and astonishing business transformations (wait until you hear what Play-Doh and Viagra have in common). From the laboratories of neuroscientists to the boardrooms of Fortune 500 companies, to the frontlines of the social justice movement, Lipman explores how and why these transformations succeed.
At its heart, Next! offers a thrilling argument: by harnessing the science and understanding the process, we can better understand how to reinvent that new career, change the direction of our lives, or inspire innovation in our organizations. This book provides a toolkit that shows how to make meaningful transitions—large or small—and to figure out for ourselves what's Next!