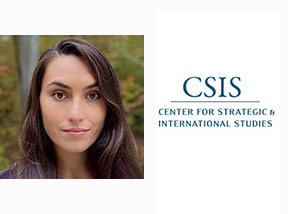 PhD Candidate Hilary Matfess has been appointed Senior Associate (non-resident) with the Center for Strategic and International Study's Africa team.
"The Center for Strategic and International Studies (CSIS) is a bipartisan, nonprofit policy research organization dedicated to advancing practical ideas to address the world's greatest challenges.  CSIS's purpose is to define the future of national security. We are guided by a distinct set of values—non-partisanship, independent thought, innovative thinking, cross-disciplinary scholarship, integrity and professionalism, and talent development. CSIS's values work in concert toward the goal of making real-world impact."
The Center is ranked the number one think tank in the United States and the Defense and National Security Center of Excellence for 2016-2018.
Congratulations Hilary!