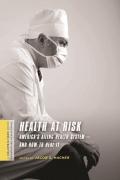 In this volume, the nation's leading advisors on health policy and financing appraise America's ailing healthcare system and suggest reasonable approaches to its rehabilitation.
Each chapter confronts a major challenge to the country's health security, from runaway costs and uneven quality of care to declining levels of insurance coverage, medical bankruptcy, and the growing enthusiasm for health plans that put patients in charge of risk and cost.
Bringing the latest research to bear on these issues, contributors diagnose the problems of our present system and offer treatments grounded in extensive experience. Free of bias and rhetoric, Health at Risk is an invaluable tool for those who are concerned with the current state of healthcare and are eager to effect change.
This publications is available on the following link(s):