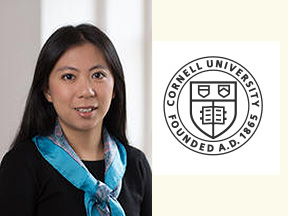 ITHACA, NY - Six of the world's most promising early-career scholars – including Yale's Baobao Zhang – are recipients of the inaugural Klarman Postdoctoral Fellowships in Cornell University's College of Arts & Sciences.
During three-year terms beginning this summer and fall, the Klarman Fellows will pursue leading-edge research projects across the sciences, social sciences and humanities, each working with an A&S faculty mentor. Their research topics range from the governance of artificial intelligence and interpreting gravitational waves produced by merging black holes, to meritocracy in Silicon Valley and logic studies linking analytic philosophy with mathematics.
"We were deeply impressed with the caliber of applicants in this first round, and we are thrilled to welcome six extraordinary scholars to advance their research at Cornell," said Ray Jayawardhana, the Harold Tanner Dean of Arts and Sciences, who led the program's conception and launch. "Their work is not only significant in fundamental ways but also highly relevant and topical to our time. Our commitment to curiosity-driven research and radical collaboration makes Arts & Sciences the perfect home for the Klarman Fellows, and I look forward to the discoveries and impacts that will emerge in the years to come."
Applications for this premier postdoctoral program closed in October, attracting more than 260 candidates, far exceeding expectations for the inaugural year.
"The Klarman Fellowships are tailored to give the most talented young researchers the greatest possible scope for creativity and achievement, while enriching Cornell's environment of exploration and discovery," said Cornell President Martha E. Pollack. "I am delighted to welcome these exceptional scholars into the Cornell community, where they will have the fullest opportunities to pursue their groundbreaking work."
The first cohort of Klarman Fellows at Cornell are:
Chiara Galli, a Ph.D. candidate in sociology at the University of California, Los Angeles. Her research examines the experiences of unaccompanied minors who escaped violence in Central America as they navigate applications for asylum in the United States. Between 2015 and 2019, Galli interviewed nearly 100 unaccompanied minors and their immigration attorneys during an ethnographic study. She will work with Filiz Garip, professor of sociology and director of the Center for the Study of Economy and Society.
Charles Petersen, a Ph.D. candidate in American studies at Harvard University. His dissertation, "Meritocracy in America, 1930-2000," shows how meritocracy – a society said to be ruled by intelligence and knowledge – became the core tenet of a "New Gilded Age," with Silicon Valley as its headquarters. He will continue his investigation of meritocracy through American history in collaboration with his faculty host, Aaron Sachs, professor of history.
Francesco Sgarlata, a Ph.D. candidate in theoretical particle physics at the International School of Advanced Studies (SISSA) in Trieste, Italy. He does research on applications of effective field theories to particle physics, on cosmology and on black holes. Recently, it has been shown that higher-spin particles are useful probes to study the gravitational dynamics of systems of rotating black holes; Sgarlata wants to inspect this analogy further in order to validate or rule out the possible existence of new particles responsible for new forces affecting black hole dynamics. His faculty host is Csaba Csaki, professor of physics.
Vijay Varma, a recent Ph.D. recipient in theoretical astrophysics at the California Institute of Technology. His research is on developing novel models that accurately extract astrophysical information from gravitational waves emitted by merging pairs of black holes and neutron stars. Predicted a century ago by Albert Einstein and detected directly just four years ago, such waves reveal insights into these exotic objects as well as the fundamental nature of space-time. His faculty host is Saul Teukolsky, the Hans A. Bethe Professor of Physics.
James Walsh, a Ph.D. candidate at the University of California, Berkeley. He does research in logic and analytic philosophy, and his current work concerns axiomatic theories in mathematics. He is also interested in the role of formal languages in theoretical inquiry. His faculty host is Alex Kocurek, assistant professor of philosophy.
Baobao Zhang, a Ph.D. candidate at Yale University and a postdoctoral fellow at the Massachusetts Institute of Technology's political science department, a research affiliate with the Centre for the Governance of Artificial Intelligence at the University of Oxford, and a fellow at the Berkman Klein Center for Internet and Society at Harvard University. Her current research focuses on the governance of artificial intelligence, specifically how governments in developed countries could prepare citizens for the work of the future. Her faculty host is Sarah Kreps, professor of government.
Each of the inaugural Fellows has already made significant contributions to their field, Jayawardhana noted, setting a high standard for future Klarman cohorts. "I am struck by their intellectual ambition, methodological sophistication and sense of purpose," he added.
Already among the most competitive postdoctoral programs in the country, the Klarman Fellowships encourage recipients to concentrate full time on their research unencumbered by specific outcome requirements or teaching assignments. The Fellowships confer generous salaries, benefits and research support, in addition to opportunities for professional development and enrichment. Klarman Fellows will meet every month during the academic year and participate in an annual symposium.
The Klarman Fellowships are made possible by Seth Klarman '79 and Beth Schultz Klarman. Seth Klarman is CEO of the Boston-based Baupost Group, LLC; Beth Klarman is president of The Klarman Family Foundation.
"I applaud Seth and Beth Klarman for their visionary support of research that is unique, essential and urgent," Pollack said. "I am confident that in the coming years the Klarman Fellowships will continue to attract the world's most promising young scholars, strengthening Cornell's academic distinction while channeling immense talent and curiosity into emerging and vital areas of inquiry."