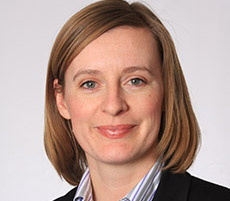 Yale political scientist Susan Hyde will discuss "Does Democracy Promotion Promote Democracy?" in the next In the Company of Scholars lecture on Tuesday, March 25.
The talk will take place at 4 p.m. in Rm. 119 of the Hall of Graduate Studies, 320 York St. The event is free and open to the public. The lecture will also be livestreamed on Yale's YouTube channel. A reception will follow in the McDougal Center common room.
Despite decades of research, the question of whether democracy promotion actually contributes to democratization is still subject to intense debate and few answers, notes Hyde. In her lecture, she will explore democracy promotion as a tool of foreign policy and reasons why the effects of democracy promotion are so poorly understood, and will offer insights for the future practice of democracy promotion.
Hyde is an associate professor of political science and international affairs. She studies international influences on domestic politics, particularly in the developing world. 

An expert on international election observation, election fraud, and democracy promotion, Hyde has served as an international election observer with organizations in Afghanistan, Albania, Indonesia, Liberia, Nicaragua, Pakistan and Venezuela. She has worked with the Carter Center, the National Democratic Institute, and the International Republican Institute on democracy promotion issues and researching how democracy-promoting organizations can evaluate the effects of their work.


She is a resident fellow at Yale's Institute for Social and Policy Studies and a faculty affiliate of the MacMillan Center and the Jackson Institute for Global Affairs. 

Her first book, "The Pseudo-Democrat's Dilemma: Why Election Observation Became an International Norm," won the International Studies Association's 2012 Chadwick Alger Prize for the best book on international organization and multilateralism; the American Political Science Association's 2012 Comparative Democratization Section best book award; and the 2012 Gustav Ranis International Book Prize for the best book on an international topic by a member of the Yale ladder faculty.
In the Company of Scholars is sponsored by Thomas D. Pollard, dean of the Graduate School of Arts & Sciences.