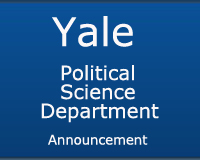 On July 1, 2014, all three officers of Yale's Political Science Department will change.  
Steven Wilkinson, Nilekani Professor of India and South Asian Studies, will become Department Chair, replacing Susan Stokes, who has served as Chair since 2009.
Frances Rosenbluth, former Deputy Provost and Department Chair, will take over as Director of Graduate Studies, replacing Gregory Huber.  
David Cameron will step down from his second stint as the Department's Director of Undergraduate Studies and David Simon, who served as interim DUS during David Cameron's triennial leave in spring 2014, will continue as DUS."