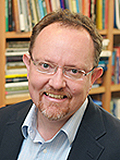 President Peter Salovey recently announced that at the next meeting of the Yale Corporation, he will propose the appointment of  Steven Wilkinson, Nilekani Professor of India and South Asian Studies, as chair of the Department of Political Science.
Professor Wilkinson's term will be for three years, effective July 1, 2014.
He will be following our current Chair, Professor Susan Stokes.