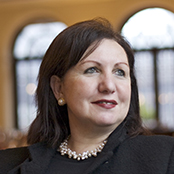 The Department of Political Science at Yale University congratulates Seyla Benhabib, who has been awarded an Honorary Degree from the School of the Social Sciences of the University of Geneva for her work "in political philosophy on rights, immigration, culture, democracy, and basically all fields of moral concern in democratic societies."
Seyla Benhabib is the Eugene Meyer Professor of Political Science and Philosophy at Yale University and was Director of the Program in Ethics, Politics and Economics (2002-2008). Professor Benhabib was the President of the Eastern Division of the American Philosophical Association in 2006-07, a Fellow at the Wissenschaftskolleg in Berlin in 2009, at the NYU Straus Institute for the Advanced Study of Law and Justice in Spring 2012, and at the German Marshall Fund's Transatlantic Academy in Washington DC in Spring 2013.
In 2009, she received the Ernst Bloch prize for her contributions to cultural dialogue in a global civilization and in May 2012, the Leopold Lucas Prize of the Evangelical Academy of Tubingen. 
She holds honorary degrees from the Humanistic University in Utrecht in 2004, the University of Valencia in November 2010 and from Bogazici University in May 2012. She received a Guggenheim grant during 2010-2011 for her work on sovereignty and international law.  Professor Benhabib was awarded the Meister Eckhart Prize of the Identity Foundation and the University of Cologne in May 2014 for her contributions of contemporary thought.
Congratulations Professor Benhabib.