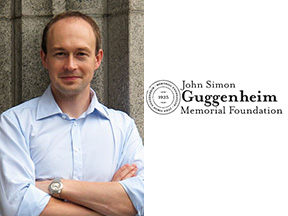 Professor Milan Svolik is one of two Yale Faculty awarded a Guggenheim Fellowship for 2022.
Milan Svolik is a professor in the Department of Political Science. In his research and teaching, he focuses on comparative politics, political economy, and formal political theory. He has authored and co-authored articles on the politics of authoritarian regimes, democratization, and democratic backsliding. He is the author of "The Politics of Authoritarian Rule," (Cambridge University Press, 2012), which received the best book award from the Comparative Democratization Section of the American Political Science Association. In addition to continuing work on the politics of authoritarianism and democratization, his current research includes projects on democratic backsliding, support for democracy, and electoral manipulation. His latest book project examines why ordinary people support politicians who undermine democracy.
The John Simon Guggenheim Memorial Foundation receives approximately 3,000 applications each year.  Guggenheim Fellowships are intended for mid-career individuals who have demonstrated exceptional capacity for productive scholarship or exceptional creative ability in the arts and exhibit great promise for their future endeavors.  No one who applies is guaranteed success in the competition and there is no prescreening; all applications are reviewed. Approximately 175 Fellowships are awarded each year.
During the rigorous selection process, applicants will first be pooled with others working in the same field, and examined by experts in that field. The work of artists will be reviewed by artists, that of scientists by scientists, that of historians by historians, and so on. The Foundation has a network of several hundred advisers, who either meet at the Foundation offices to look at applicants' work, or receive application materials to read offsite. These advisers, all of whom are Guggenheim Fellows from previous years, then submit reports critiquing and ranking the applications in their respective fields. Their recommendations are then forwarded to and weighed by a Committee of Selection, which then determines the number of awards to be made in each area. Occasionally, no application in a given area is considered strong enough to merit a Fellowship.