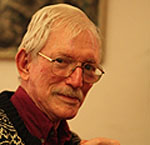 A memorial service will be held for Professor William Foltz on Saturday, November 9, 2013 at 4:00 p.m. in Dwight Chapel on the campus of Yale University.  All are welcome to attend.
In memoriam: William J. Foltz, Political Scientist and Africanist
William J. Foltz, H. J. Heinz Professor Emeritus of African Studies and Political Science at Yale University died Sunday, October 27th, 2013 at his home in New Haven, CT. 
Foltz was the director of the Yale Center for International and Area Studies (now the Whitney and Betty MacMillan Center for International and Area Studies) from 1983-1989, where he brought together and expanded faculty and programs in international relations within the University.  For many years over the course of three decades he also developed Yale's offerings in African Studies as Chairman of the Council on African Studies.  He served as associate director of the Southern African Research Program for 15 years, and as chair of the Department of Political Science from 2004-2005.
Bill Foltz was born in Mount Vernon, NY, in 1936.  After obtaining his A.B. at Princeton in 1957, he enrolled in the Yale University Graduate School, receiving his Ph.D. in 1963.  That same year he was hired by Yale's Department of Political Science, where he spent the rest of his successful career or, as he joked, "made no progress."  In fact, he held only four jobs in his life: mink-trapper, grave-digger, crumpet-baker, and Yale professor.
He was the recipient of the Ford Foundation Area Training Fellowship and the Guggenheim Fellowship.   He also taught at Wesleyan University, Makerere University College, Uganda, the University of Chad, and the University of Cape Town.
His specialization in International Relations and particularly African politics made him a frequent consultant to the Rand Corporation and the Department of State.  Foltz was a Senior Fellow at the Council on Foreign Relations and served on the National Intelligence Council as the National Intelligence Officer for Africa from 1995-1997.
In a memoir written for Yale's Koerner Center for emeritus professors, Bill wrote of his career-long commitment to "crossing boundaries" and to understanding the nature of political power.  Bill traveled and carried out his dissertation and post-graduate studies in Senegal, South Africa, and Chad – among other countries – and learned to value meticulous fieldwork.  Early work with Robert Dahl and other mentors at Yale shaped his career-long appreciation for micro-level analysis of power and influence – whether in New Haven or the emerging nations of Africa.  He said:
I had started out in an interdisciplinary program as an undergraduate, and I muddled along to work with scholars and government analysts, to cross boundaries and exercise …not power, but the arcane techniques of getting something done at Yale and occasionally in Washington.
In his role on the National Intelligence Council, Foltz counseled the Clinton Administration on its policy towards an Africa in seemingly perpetual political transition.   His service coincided with the first two years of South Africa's first democratically elected government.  There were no easy decisions about the appropriate use of power, but as Bill commented at the time, "My job was to help my government do fewer stupid things in Africa."  
Foltz's dissertation, From French West Africa to the Mali Federation (Yale University Press,1965) expressed his career-long interest in the nature of political and intellectual boundaries.  Arms and the African, co-authored with Henry Bienen (Yale University Press, 1985) captured his focus on the role of militaries in political transitions – another case of crossing boundaries.  He also successfully brought together opposing groups to help resolve conflicts in the Horn of Africa and Northern Ireland.  Foltz published scores of articles on a diverse array of topics:  from conflict resolution to party politics in sub-Saharan Africa; from a study of ethnic conflict, published in Russian, to several studies of US strategic interests in southern Africa.  His work was anthologized in many collections, including a piece on the politics of health reform in Chad, co-authored with his wife – epidemiologist Anne-Marie Foltz – which appeared in a collection on economic system reform in developing countries.
Foltz wrote extensively, but he defined his success in significant measure by the generations of scholars who shared his commitment to careful field work, clear-eyed analysis, and simple, lucid prose.  Many of his doctoral students participated in a festschrift in his honor in 2006 on the occasion of his formal retirement, as did one of his two sons – both accomplished academics in their own right.  Bill Foltz retired from Yale in 2006 but continued to teach and advise students.
Beginning in 1940, Bill spent his summers in the Thousand Islands, where, in 1976, he and his family literally built their own house on Grindstone Island.  An accomplished musician, he resumed his study of the piano and sang in a senior chorus following his retirement.  He is survived by his wife of 55 years, Anne-Marie Foltz, sons Peter W. Foltz (Adrienne Lee), Boulder, CO, and Jeremy D. Foltz (Erin McBride), Madison WI, two grandchildren, Miranda Lee-Foltz and William Kieran Foltz, his sister Jean Gibson (Bob Gibson}, Albuquerque NM, and brothers Robert Foltz, Deep River CT, and David Devlin-Foltz (Betsy Devlin-Foltz), Silver Spring MD and sister-in law, Lisa Strong, Clayton NY.
A memorial service will be held at 4 PM on Saturday, November 9, 2013 at Dwight Chapel on the campus of Yale University.  Donations in William J. Foltz's memory may be made to the Neighborhood Music School, New Haven, CT or the Thousand Islands Land Trust, Clayton, NY.