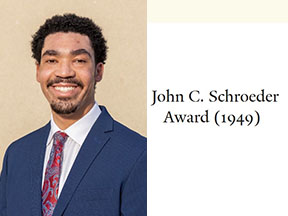 Junior Jonathan Oates of Silliman College has received the John C. Schroeder Award, which honors former Calhoun College master John C. Schroeder.  This award is given to students who have contributed to residential college life and who, in the opinion of the committee, will "play a part in the good labor of the world."
The  Council of the Heads of Colleges present the award in recognition of the student's scholarship, contributions to college life, and their character.
"Jonathan is a hard-working political science major. His interest in politics stems from an explicit moral conviction that government is not in fact broken — it's the place that one goes to serve and make one's community a better place. Jonathan absolutely lives these moral ideals in all his work at Yale — indeed, he has gone over and above the call of service during his time at Yale and at Silliman College From his work on the YCC to going above and beyond as Silliman SAAC co-president, Jonathan has already done important work to make Silliman and Yale a better place. Jonathan has also taken his altruistic service beyond Yale's campus. Last year, he was inducted into the Institute for Responsible Citizenship, an organization that seeks out the nation's best and brightest to use their talents to serve others. As this long list shows, Jonathan has worked tirelessly and altruistically to help make the communities he's part of better. He will undoubtedly do the good labor of the world and strongly lives up to all the moral ideals that this award and John C. Schroeder stood for."
Jonathan Oates is a junior studying political science with interests in political philosophy and democracy reform. Born and raised in Knoxville, Tennessee, Jonathan hopes to use his experience in the Grand Strategy Program to explore how to bridge divides between disparate groups and create a fairer society. At Yale, he currently serves as a YCC Senator representing Silliman College and has previously served as a member of the YCC Executive Board and First-Year Class Council. He also serves as co-president of the Silliman Activities and Administrative Committee. Outside of Yale, Jonathan has interned at ThinkTennessee, a nonpartisan research group dedicated to supporting working families and increasing civic engagement, and the Institute on Taxation and Economic Policy. He is also a proud member of the Institute for Responsible Citizenship and an avid sci-fi/fantasy reader. Jonathan can usually be found studying in the "Silli"brary or avoiding work by discussing politics with his friends in the dining hall.