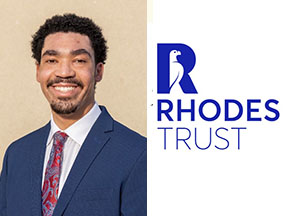 The American Rhodes ScholarsTrust has announced the winners elect for 2023 (subject to ratification by the Rhodes Trustees after acceptance by one of the colleges of Oxford University).
From Tennessee,  Ulystean Jonathan Oates, Knoxville, is a senior at Yale College, where he is majoring in Political Science. Jonathan's academic work engages questions of democracy, justice, and equality, and he has completed recent internships in the office of Representative Jim Cooper and at the Institute on Taxation and Economic Policy. Jonathan has served in numerous positions in student government at Yale and received multiple campus awards in recognition of his leadership. At Oxford, Jonathan intends to do the M.Phil. in Politics.
The Rhodes Scholarships are the oldest and most celebrated international fellowship awards in the world. Each year 32 young students from the United States are selected as Rhodes Scholars, through a decentralized process representing the 50 states, the District of Columbia, and the U.S. territories. Applicants from more than 320 American colleges and universities have been selected as Rhodes Scholars.
Rhodes Scholars are chosen not only for their outstanding scholarly achievements, but for their character, commitment to others and to the common good, and for their potential for leadership in whatever domains their careers may lead. The Rhodes Trust, a British charity established to honor the will and bequest of Cecil J. Rhodes, provides full financial support for Rhodes Scholars to pursue a degree or degrees at the University of Oxford in the United Kingdom in partnership with the Second Century Founder, John McCall MacBain and other generous benefactors.