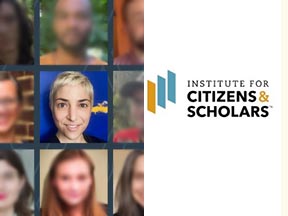 Isabelle Laurenzi of Yale University's Department of Political Science has been awarded a Charlotte W. Newcombe Doctoral Dissertation Fellowship for 2023 for her dissertation "Critical Ambivalence, Intimacy, and The Politics of Transformation." This award reflects the selection committees' confidence in the excellence of her preparation and the contribution she will make to the study of ethical and religious values.
Newcombe Fellows are late-stage Ph.D. students in the humanities and social sciences whose research in some way attends to those commitments and ideals and seeks to understand the communities, social practices, and political arrangements that embody them.
The Charlotte W. Newcombe Foundation created this Fellowship in 1981. Now in its fifth decade, the Newcombe Fellowship has become a nationally noted award that distinguishes recipients within their fields. Fellows receive a $30,000 stipend to complete the writing stage of their dissertation.
Isabelle is a fifth-year Ph.D. candidate in Political Theory. She earned a bachelors in Religion from Princeton University, with certificates in Humanistic Studies and Creative Writing. At Yale, she works in the Yale College Writing Center and is an Assistant Editor at The Yale Review. She has taught for courses in Political Science and Women, Gender, and Sexuality Studies."