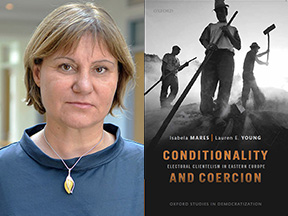 Isabela Mares has been awarded the best book award of the European Politics section of the American Political Science Association for Conditionality and Coercion (co-authored with Lauren Young, UC Davis).
Conditionality and Coercion: Electoral Clientelism in Eastern Europe uses survey-based experiments and ethnographic research to understand how illegal forms of campaigning including vote buying and electoral coercion persist in two democratic countries in the European Union. It argues that we must disaggregate clientelistic strategies based on whether they use public or private resources, and whether they involve positive promises or negative threats and coercion. The study also documents that the type of clientelistic strategies that candidates and brokers use varies systematically across localities based on their underlying social coalitions. Relatedly, the study investigates how voters assess and sanction different forms of clientelism and demonstrates that voters derive information about the personal and policy characteristics of candidates from their clientelistic practices. The study shows that electoral clientelism is not always sanctioned by voters. Clientelism, including its coercive forms, persist in democratic systems because politicians can use strategies that are in line with the policy preferences of local constituencies.
Congratulations Professor Mares.