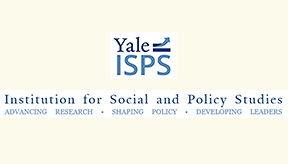 The Institution for Social and Policy Studies at Yale (ISPS) is pleased to announce that applications are open for the Director's Fellows program. The fellowship is open to Yale sophomores and juniors who are committed to working in U.S. domestic politics and policymaking. Selected Fellows will join ISPS as members of the Domestic Policy Group starting in January 2020, and over the course of one calendar year, will receive sophisticated policy training from ISPS faculty and affiliates, integrate into ISPS research activities, and test their development through real world application and feedback.
 ISPS Director's Fellows will have the opportunity to attend biweekly workshops, some featuring prominent Yale faculty and guests working on policy-relevant issues and others providing training in skills such as op-ed and policy memo writing, media appearances, and blogging.
 The Fellowship is open to Yale College sophomores and juniors and can be completed online. To apply, please visit our webpage and click on the Application Form near the bottom of page.
 Deadline for applying is December 18, 2019 at 11:59pm. Accepted fellows will be notified in January.
 Should you have any questions, please feel free to contact Tory Bilski at victoria.bilski@yale.edu.
 We look forward to having you join us!