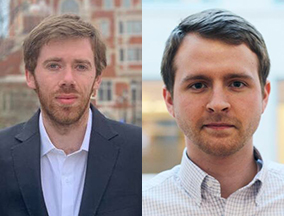 The U.S. Institute of Peace announced the new cohort of its Peace Scholar Dissertation Fellows in July and among them are two Yalies: Daniel Hirschel-Burns and Drew Stommes.
The USIP is pleased to announce the 2022-23 cohort of Peace Scholar Fellows. This year 87 applicants from 52 U.S. universities applied for this prestigious award. The 20 award recipients demonstrated the greatest potential to advance the peacebuilding field and the strongest likelihood to inform policy and practice.
Since 1988, USIP has awarded 387 non-residential fellowships to doctoral candidates enrolled in U.S. universities, many of whom have gone on to distinguished careers in research, teaching, and policymaking. Since 2017, USIP has collaborated with the Minerva Research Initiative to build upon the successes of the Peace Scholar program.
USIP-Funded Peace Scholars: Daniel Hirschel-Burns, Yale University, "The Ideological Socialization of Civilians During Civil War."
Minerva-funded Peace and Security Scholars: Drew Stommes, Yale University, "Armed Political Parties and Their Violence."