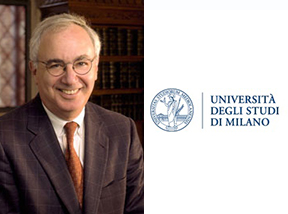 Sterling Professor of Law and Professor of Political Science Bruce Ackerman was awarded an Honorary Doctorate in Law and Political Science from the University of Milan in May of 2023.
Opening remarks were given by Professor Chiara Amalfitano, Head of the Department of Italian and Supranational Public Law, followed by a commendation by Nicolò Zanon, Vice President of the Constitutional Court.
Rector of the University Elio Franzini said in his remarks  "The University of Milan awards an honorary degree in Law to Bruce Arnold Ackerman, Sterling Professor at Yale University, for having contributed to the development of American and comparative constitutional law by analysing the transformations undergone by constitutional systems, both from a historical and philosophical perspective, and by introducing new concepts and interpretations, which are now part of the constitutional doctrine at the global level."
After that, Bruce Ackerman delivered a lecture entitled "The Postmodern Predicament: The Shattering Challenges Posed by the High-Tech Revolution".