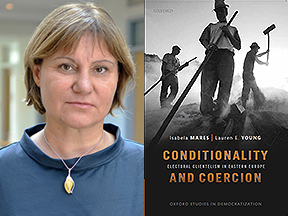 The European Studies Council is presenting a book talk with Isabela Mares, Arnold Wolfers Professor of Political Science, Yale University on her newest book  "Conditionality and Coercion."
Mares conducted an intensive multi-year investigation of political clientelism — illegal exchanges of goods and services for political support — in several Eastern European nations. Her research combined ethnography, an observational method used in anthropology for studying cultures in depth, with a variety of survey experiments. She describes her findings in "Conditionality and Coercion," a new book coauthored with Lauren Young, an assistant professor of political science at the University of California-Davis.
The event will be held in Henry R. Luce Hall, 34 Hillhouse Avenue in room 203 on Monday, February 17 at 12:00 p.m.