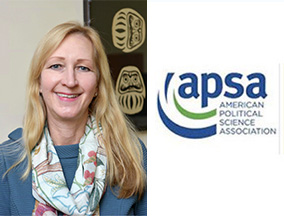 Political Economy section of the American Political Science Association Call for Proposals: Frances McCall Rosenbluth Junior Research Workshop
Deadline for applications is March 31, 2022.
The Political Economy (PE) organized section of the American Political Science Association is seeking applications from junior scholars for a pre-conference research workshop, held the Wednesday prior to the APSA annual meeting. Named in honor of former PE Section Chair Frances McCall Rosenbluth, the mentoring workshop aims to provide feedback on a specific paper as well as the broader research program of scholars underrepresented in the political economy field; in doing so, the section seeks to foster greater inclusivity and diversity within the PE community. Dimensions of diversity could include, among other things, race and ethnic identity; gender; non-R1 ("research intensive") academic institutions; and home departments with little or no presence of other political economy scholars. The workshop is open to tenure-track, non-tenure track, post-docs, and advanced ABD candidates close to completing their Ph.D. dissertation.
Each junior scholar will be asked to present a working paper. We will pair each presenter with a senior PE scholar, sharing similar substantive interests. The senior scholar will offer constructive feedback on the manuscript and provide more generalized mentoring guidance during the workshop and the dinner that follows. Other workshop participants also will offer feedback and participate in the conversation about each paper. We will select three junior scholars. The Political Economy section will defray the costs of participation (lodging, meals, other workshop-related expenses) with a $650 travel grant for each paper presenter.
Interested applicants should submit a two-page proposal indicating how they would benefit from this research workshop, identifying between three and five senior scholars they believe could provide helpful feedback on the paper, and discussing their eligibility for this workshop. In addition, each applicant should submit a PDF version of the working paper they will present if selected to participate. Both documents should be uploaded to the following google drive:
https://drive.google.com/drive/folders/10E2S2s7Cca1Pyv6EM95CQVoekQU0QHDF?usp=sharing
Please name the files:  Lastname_FirstnameApplication.pdf  and  Lastname_FirstnamePaper.pdf
Scholars working in any part of the political economy tradition, broadly construed, are welcome to apply. Please share this call with ABDs and recent PhDs who may be interested, but who are not currently members of the Political Economy section.
 
For further questions, please contact Christina Schneider, UCSD at cjschneider@ucsd.edu