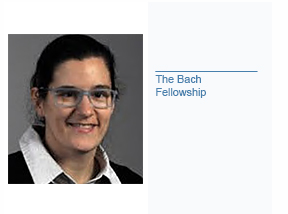 Graduate Student Angele Delevoye has been awarded a grant for the 2021-2022 academic year for dissertation funding from the Bach Fellowship.
The funding is intended to support her continued research of deliberation in democratic institutions, including in the U.S. Congress. You were highly recommended for this award by your department based on your exemplary academic achievements, and the Bach Fellowship Board of Directors found your research proposal promising. The Bach Fellowship honors the life and work of Stanley I. Bach, who earned a Ph.D. in Political Science from Yale in 1971 and worked for 26 years at the Congressional Research Service (CRS) of the Library of Congress. As a Senior Specialist in the Legislative Process, Dr. Bach educated Members of Congress and their staff on House and Senate rules through written products, seminars, and personal consultations. He was also involved in various parliamentary development programs, assisting in 35 countries over the course of his career at the request of the Department of State, the U.S. Agency for International Development, and the National Democratic Institute. After he retired from CRS, he was a Fulbright Senior Scholar in Australia and published a book on the Australian Senate. Dr. Bach assembled many of his government and academic papers on his website, stanistan.org, which the Board of Directors continues to maintain.
Congratulations Angele.