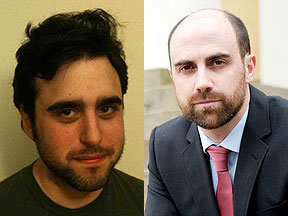 Yale University's Department of Political Science is proud to announce that two faculty members have been awarded the Inaugural Lerner-Rosenthal prices for Open Social Science.
Peter Aronow, assistant professor of political science and biostatistics, was honored with a "Emerging Researcher" prize for uncovering inconsistencies and fabrications in a groundbreaking study on attitudes toward same-sex marriage. Aronow shared the prize with his co-authors on the study that revealed the fraud: David Brookman of Stanford University and Joshua Kalla of University of California-Berkeley.
Allan Dafoe, former assistant professor of political science, received an "emerging Researcher" prize for a portfolio of transparency projects, including novel ways to visualize specification sensitivity tests, publications advocating transparency norms, and new efforts to create an online commons for post-publication dialogue.
The Leamer-Rosenthal Prizes are awarded by the Berkeley Initiative for Transparency in the Social Sciences, which aims to enhance the practices of economists, psychologists, political scientists, and other social scientists in ways that promote research transparency, reproducibility, and openness.