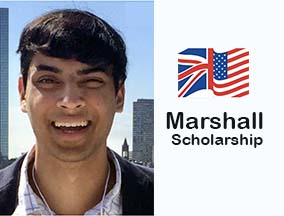 Akhil Rajan, Class of 2021, has been awarded one of 40 Marshall Scholarships for 2022.
Akhil studies spatial inequality in the context of both political and economic divides. He has worked on policy for campaigns at the local, Senate, and presidential levels, and was a fellow of the Kerry Initiative at Yale.  He is currently a Confidential Assistant to the Secretary, U.S. Department of Agriculture, in the Biden-Harris administration.
"The Marshall Aid Scholarships are awarded each year to high-achieving American students to pursue post-graduate studies at any university in the UK in any field. It is named for former U.S. Secretary of State George C. Marshall.  The scholarship program began in 1953 as a gesture of gratitude to the American people for the assistance offered to the U.K. after World War II under the Marshall Plan."
Congratulations Akhil.