Radha Sarkar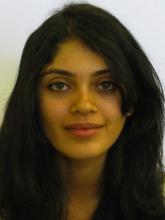 ---
Contact:
115 Prospect Street, Rosenkranz Hall
radha.sarkar@yale.edu
Education:
MSc, London School of Economics, 2016
Bio:
I completed an MSc in Comparative Politics at the London School of Economics in 2016. Before that, I received an undergraduate degree in political science and a minor in Latin American Studies from Princeton University in 2015. 
My research interests include political violence and the politics of religion and ethnicity, and my peer-reviewed work has appeared in Studies in Conflict and Terrorism, and Politics, Religion & Ideology. I've also contributed journalistic pieces and op-eds to The Economic and Political Weekly, Policy Forum, and The People's Archive of Rural India.