Mara Revkin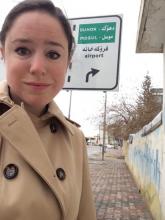 ---
Contact:
115 Prospect Street, Rosenkranz Hall
mara.revkin@yale.edu
Bio:
Mara Revkin is a Ph.D. Candidate in Political Science at Yale University and an Islamic Law & Civilization Research Fellow at Yale Law School, from which she received her J.D.  Her research examines state-building, lawmaking, and governance by armed groups with a current focus on the case of the Islamic State.  
During the 2017-2018 academic year, she will be collecting data for her dissertation in Turkey and Iraq supported by the U.S. Institute for Peace as a Jennings Randolph Peace Scholar.  Mara is a member of the New York State Bar Association and is also working on research projects concerning the legal status of civilians who have lived in areas controlled and governed by terrorist groups.  She is currently the lead researcher on Syria for United Nations University's forthcoming study on Children in Extreme Violence.  
Her academic work has been published in the Annual Review of Law and Social Science, the Oxford Handbook of Islamic Law, and the UCLA Journal of Near Eastern and Islamic Law, among others. Before graduate school, she was a Junior Fellow at the Carnegie Endowment for International Peace (Middle East Program) and a Fulbright Fellow in Jordan and Oman. She holds a B.A. in Political Science and Arabic from Swarthmore College.
Articles
"How militants in Iraq and Syria recruit and use children", Washington Post, Monkey Cage, February, 2018
"Triadic Legal Pluralism in North Sinai: A Case Study of State, Shari'a, and 'Urf Courts in Conflict and Cooperation," UCLA Journal of Islamic and Near Eastern Law, Vol. 13, No. 1 (2014), pp. 21-59. Online.
"Egypt's Constitution in Question," Middle East Law and Governance Journal, Vol. 5, No. 3 (2013), pp. 331-343. Online.
"Middle Eastern Law" with Chibli Mallat. Annual Review of Law and Social Science, Vol. 9 (2013), pp. 405-433. Online.
"Political Success of Egypt's Salafis Tests U.S. Support for Democracy," Harvard Journal of Middle Eastern Politics and Policy (June 2012) pp. 13-19.