Cleo O'Brien-Udry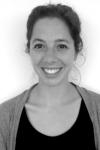 ---
Contact:
115 Prospect Street, Rosenkranz Hall
Bio:
I am interested in the political economy of foreign aid and development. My dissertation focuses on "aid withdrawal," or how incomplete, cancelled, or reclassified aid projects affect political and economic decisions in recipient and donor countries and international organizations.
Prior to starting my PhD, I served as a Peace Corps Volunteer in Kosovo where I worked with minority communities on education and community development projects. I received my BA (with Honors) and MA in English Literature from Stanford University.
Interests:
International Political Economy
Comparative Political Economy