Chris Chambers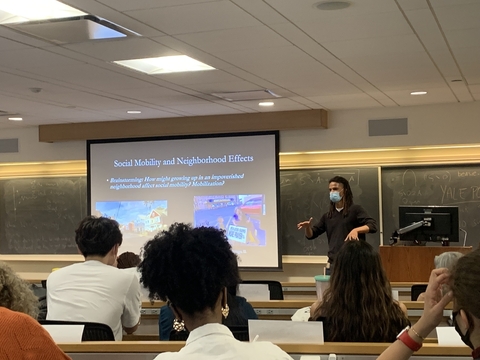 ---
Contact:
115 Prospect Street, Rosenkranz Hall
chris.chambers@yale.edu
 
Education:
M.A., Political Science, University of Chicago, 2017
B.A., Philosophy (with honors), University of Central Florida, 2016
B.A, Political Science, University of Central Florida, 2016
Bio: 
Chris Chambers is a doctoral candidate with interests in the history of political thought and political economy; twentieth-century Continental philosophy (especially existentialism, phenomenology, and critical theory); and representations of philosophy and politics in literature and film. His dissertation, "Hatred of the Poor: Poverty and the Politics of Human Nature from Smith to Engels," explores discourses about uplifting the poor and managing their discontent to critically examine "aporophobia," the idea of hostility toward the poor, in its relation to the politics of social citizenship. Prior to Yale, he completed his MA at the University of Chicago, where he wrote on Hannah Arendt and the Russian novelist Ivan Turgenev. Before Chicago, he completed BAs in Philosophy and Political Science at the University of Central Florida. His work is supported by the Dean's Emerging Scholars Fellowship. 
Areas of Interest: