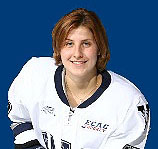 Yale Athletic Teams present:
The Mandi Schwartz Marrow Donor Registration Drive.
Join the Be The Match® Registry at
the Mandi Schwartz Marrow Donor Registration Drive at Yale!
Part of the "Get in the Game. Save a Life." Program
In six years of drives we have added 4,538 registrants and helped save 28 lives!
Thursday, Apr. 16, 2015
10:00 a.m. to 5:00 p.m.
Yale University Commons, 168 Grove Street (corner of College Street and Grove Street), New Haven, Conn. (Directions)
Open to the general public (to join the registry at the drive, must be ages 18 to 44)
No advance registration required
1-800-MARROW-2
After she was diagnosed with cancer in the fall of 2008 (her junior year), Yale women's ice hockey player Mandi Schwartz' search for a genetic match for a stem cell transplant to save her life inspired thousands to sign up as potential marrow donors. No perfect match was ever found for her. Mandi received a transplant using umbilical cord blood in September 2010, but in December 2010 her cancer returned. She passed away at home in Saskatchewan on Apr. 3, 2011 at the age of 23.
Yale now holds its annual marrow donor registration drive in Mandi's memory. These drives are led by the field hockey, football and women's ice hockey teams. They are a part of Yale's Day of Service initiative. Contact larry.ciotti@yale.edu if you are interested in being involved in the drive.
To date, Yale's drives have added 4,538 people to the Be The Match registry, including 921 in 2010 – a record for the "Get in the Game. Save a Life." program. 
At least 28 life-saving matches for patients in need have been located through these efforts. That includes Yale field hockey alum Lexy Adams '13 (Lancaster, Pa.), who donated to a patient with cancer in December 2010, and Yale football alum John Oppenheimer '14 (Menlo Park, Calif.), who donated to a patient with cancer twice in 2013. Yale also has three members of its football staff who are marrow donors: Chris Gennaro (Saco, Maine), Paul Rice '10 (Cleveland Heights, Ohio) and Zach Wigmore (Simsbury, Conn.). Yale men's soccer player Mitch Wagner (Horseheads, N.Y.) is a marrow donor as well.