Mara Revkin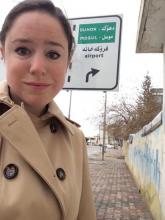 Bio:
Mara Revkin is pursuing a Ph.D. in Political Science at Yale and a J.D. at Yale Law School.  Starting in August 2016, she will begin a position as Resident Fellow with the Abdallah S. Kamel Center for the Study of Islamic Law and Civilization at Yale Law School.  Mara's research focuses on governance and lawmaking by insurgent groups in civil wars and weak states, with a regional specialization in Middle Eastern and Islamic legal systems.  Her work draws on a range of techniques including ethnographic and archival methods, computer-assisted analysis of Arabic language data, and survey-based experiments.  She has conducted fieldwork most recently in the Sinai Peninsula, southeastern Turkey, and Iraqi Kurdistan.  
After receiving her B.A. in Political Science and Arabic from Swarthmore College, Mara was a Fulbright Fellow in Jordan and Oman and a Junior Fellow at the Carnegie Endowment for International Peace, where her research focused on the Arab Spring and al-Qaeda in the Arabian Peninsula (AQAP).  She also served as Assistant Director of the Atlantic Council's Rafik Hariri Center for the Middle East before beginning graduate school in 2012.
Personal Website:
http://mararevkin.wordpress.com/
Articles
"Triadic Legal Pluralism in North Sinai: A Case Study of State, Shari'a, and 'Urf Courts in Conflict and Cooperation," UCLA Journal of Islamic and Near Eastern Law, Vol. 13, No. 1 (2014), pp. 21-59. Online.
"Egypt's Constitution in Question," Middle East Law and Governance Journal, Vol. 5, No. 3 (2013), pp. 331-343. Online.
"Middle Eastern Law" with Chibli Mallat. Annual Review of Law and Social Science, Vol. 9 (2013), pp. 405-433. Online.
"Political Success of Egypt's Salafis Tests U.S. Support for Democracy," Harvard Journal of Middle Eastern Politics and Policy (June 2012) pp. 13-19.